Leonardo: The Works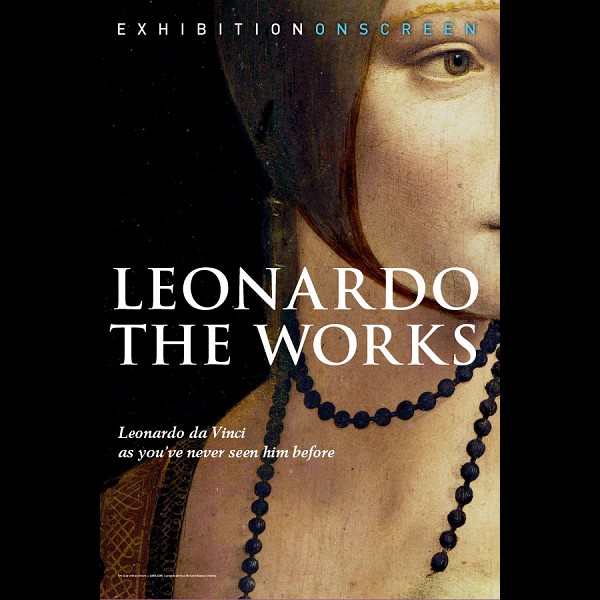 Book Tickets
Click a time to book tickets
Info

Please be aware that there are no trailers before the performance.

Synopsis

Beginning its much anticipated seventh season, EXHIBITION ON SCREEN offers an unprecedented look at arguably the world's most celebrated artist: Leonardo da Vinci. Premiering in cinemas for a strictly limited run from 29th October 2019 Leonardo: The Works is part of the global celebration marking the 500th anniversary of the artist's death.




Many feature films have showcased the genius of Leonardo but none have ever examined in such detail the most crucial element of all: his art. Leonardo's peerless paintings will be at the core of Leonardo: The Works, captured in staggering high-definition as never seen in cinemas – until now. Notably, the film presents every single painting attributed to Leonardo, offering unparalleled access for the first time. Amidst this collection of masterpieces, cinema-goers will marvel at The Last Supper, Lady with an Ermine, Ginevra de' Benci, Madonna Litta, Virgin of the Rocks and what is widely considered the most famous artwork of all time – The Mona Lisa.




Leonardo: The Works also looks afresh at Leonardo's life through the prism of his art, threading biography and artistic output together with the assistance of the world's foremost curators, critics and historians.




Award-winning writer and director Phil Grabsky travelled to 8 countries to film virtually all the attributed Leonardo works in situ. This includes the much-discussed Salvator Mundi which the film shows is a Leonardo work, the little-known Salle delle Asse – Leonardo's largest work, the recently restored Adoration of the Magi and also (shown as such in a film for the first time) Lansdowne Madonna. Leonardo: The Works offers privileged access to the Mona Lisa (here seen in extraordinary detail), behind the scenes footage at the National Gallery, as well as the 2 Leonardos side-by-side at the Hermitage in St. Petersburg; it is a genuine 'feast for the eyes'. Guiding the narrative biography of the man some claim is the greatest mind of all of history are the world's leading experts, historians and curators – here speaking candidly with great knowledge and humour as a group for the first time ever.