Whisky Galore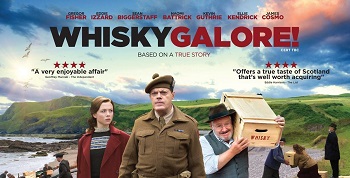 Book Tickets
Click a time to book tickets
Info

98 minutes
Cast: Eddie Izzard, Gregor Fisher, Ellie Kendrick
UK (2016)

Synopsis

This remake is British comedy at its best.




"Contemporary, embracing drama, romance and comedy, with an array of colourful characters providing a platform for a wonderful cast"




Whisky Galore! is a 2016 British film, a remake of the 1949 Ealing Comedy and stars Eddie Izzard, Gregor Fisher & Ellie Kendrick.




1941 on the Hebridean island of Eriskay the SS Politician ran aground. The tale of how a group of local Scottish islanders raided a shipwreck for its consignment of 24,000 cases of whisky quickly became legend and not only inspired a comic novel by Compton Mackenzie but one of the finest comedies in British cinema history.